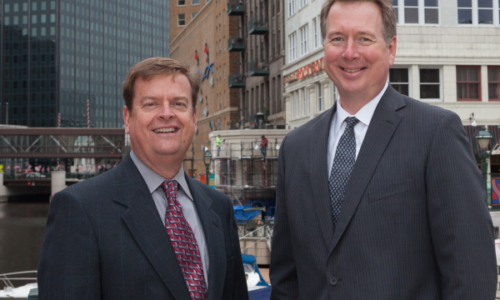 Established in 1994, the law firm of Miller & Ogorchock, S.C., is dedicated exclusively to representing injured people and their families in personal injury matters throughout Wisconsin.
Located in Milwaukee, our lawyers provide aggressive legal advocacy and superior client service to people throughout Wisconsin. If you or a loved one has suffered a serious personal injury, we are here to stand up for your rights.
Contact us today online or by telephone at 414-272-4100 to speak with
an experienced Milwaukee personal injury and wrongful death attorney.
Accomplished Milwaukee Personal Injury Firm
We understand the trauma a personal injury can cause and how difficult it can be to obtain adequate compensation for your injuries. Our Milwaukee personal injury lawyers offer clients unsurpassed legal services, including the following:
Vigorous representation committed to winning your injury or wrongful death case and maximizing your recovery
Personal service and straight answers from a personal injury lawyer in Milwaukee who knows you, knows the law and takes your case seriously
The confidence of knowing you are in safe hands and your lawyer is working to ensure that your case proceeds as efficiently and effectively as possible
The Value of Preparation
Personal injury cases that settle for full value before trial are cases that are thoroughly prepared and documented, and that insurance companies take seriously. While most cases settle, our personal injury lawyers investigate and prepare each case as though going to trial.
With documented success in the courtroom and a willingness to proceed to trial when necessary, our injury lawyers in Milwaukee pursue maximum settlements for our clients. Our pledge of excellence in legal service means:
Your case is handled by the same lawyer from start to finish
We construct your case aggressively to firmly establish its maximum dollar value, and resolve your case as soon as possible
We fight to win fair compensation, whether through a settlement or at trial
Our personal injury lawyers in Milwaukee have the skill, experience and dedication to help you through a difficult time and win your case.
At Miller & Ogorchock, S.C., we handle cases on a contingent fee basis, so there is never a charge for attorney fees or costs unless we win your case with a settlement or verdict and you get paid.
Contact a Wisconsin Accident and Injury Attorney
Our offices are conveniently located in Milwaukee's Riverfront Plaza, with ample access to parking. We offer evening and weekend appointments by request, and our lawyers are happy to meet you at your home, office or hospital room. Call 414-272-4100 or contact us online for a free consultation with a Milwaukee personal injury and wrongful death attorney.